2 DAY EVENT ~ Walkup & Takeout Orders plus Cocktails To Go!
JUANA TAMALE POP-UP ~ Tacos & Tamales!
Walkup or Call for Takeout (267) 606-6215 plus Cocktails To Go!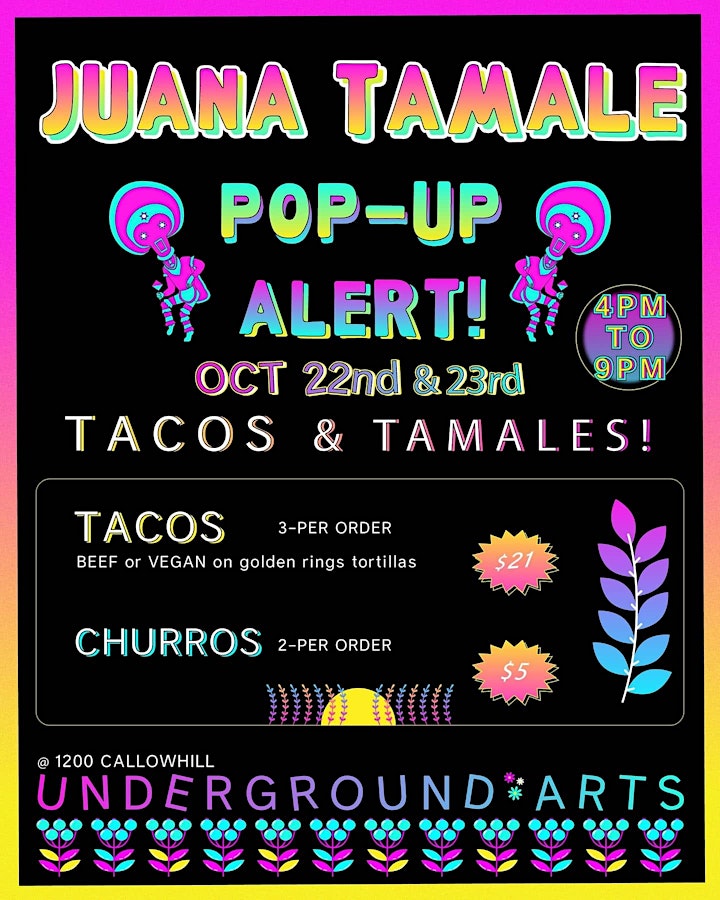 2 Day Event at Underground Arts! Thursday, October 22nd & Friday, October 23rd
Walk-up or call ahead for takeout (267) 606-6215 plus Cocktails to go!! Cash & Credit accepted
Back at it with the most delicious tacos and tamales you will ever have!!!
Starts at 4pm
Full bar options!!
New way to order when you walk up!
3 Tacos per order.
Each taco comes with cheese, love, passion, cilantro, onion, salsa, jalapenos, lime, & consume.
These tacos are NOT small.
They are extremely delicious.
Yes, they are $21 ~ gratuity is included but additional tips are always appreciated.
Please social distance, wear a face mask and be kind to others.

Venue Information:
Underground Arts
1200 Callowhill St
Philadelphia, PA, 19107